WHEN:
Thanksgiving Day - November 24, 2022
Start: 8:00 a.m.
*Note that both the 5k and 10K will start at the same time following the "Start Time" process outlined below.
Please arrive at the race location 30 to 45 minutes before your race starts (see above) to provide adequate time to park, warm up and get lined up into your wave start position.
WHERE:
Sandy Promenade
10200 S. Centennial Parkway
Sandy, UT 84020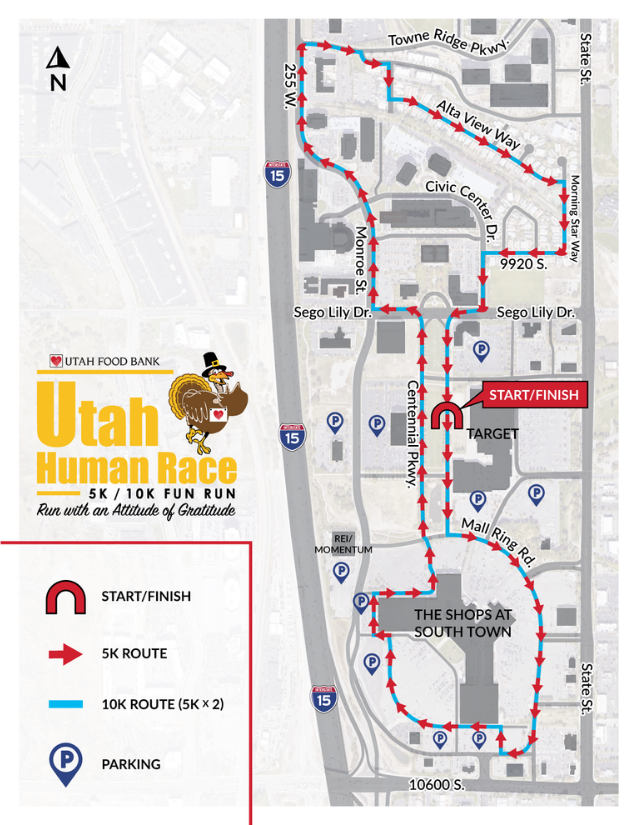 START TIME:
The race starts at 8:00 a.m. for all runners, with 10K runners at the front. On race day, there will be flags and signs indicating where to line up based on how quickly you will be running or walking (pace time), fastest to slowest, so that the course can be as safe and clear as possible for all participants. We ask that you make your way to the designated area for your pace time at least 10 minutes before the race begins.
We will be using a wave start, which means each pace time group will be set off at short intervals. This helps lessen overcrowding on the course, increases safety, and ensures that faster runners are not trying to weave around those running or walking at a slower pace. If you wish to participate with family and friends, be sure you ALL choose the same pace time category.
PARKING:
Parking will fill up early! We recommend parking near Target in Sandy. There is also parking available at REI/Momentum, Sandy One Center, Aetna and Del Sol. No parking will be allowed on the route. See map for parking details!
REGISTRATION:
Pricing:
Online Registration will close on Wednesday, November 22 @ Noon!
Pricing & Deadlines

Oct. 1 - Nov. 22

Online Registration closes 11/23 at 12:00pm

November 23
Registration at Packet Pick-Up

*Shirt Availability Not Guaranteed

5K Individual

$30 per person

$35 per person

10K Individual

$35 per person

$35 per person
EARLY BIRD DISCOUNT OF $5/PERSON WILL BE AUTOMATICALLY APPLIED THROUGH OCT. 31!
PLEASE NOTE THAT TIMING CHIPS ARE UNAVAILABLE THIS YEAR!
I registered but can no longer run, can I get a refund?
Due to the costs of ordering shirts and preparing for race day after you register, we cannot refund your registrations. No refunds will be permitted, unless there is a charge error through the registration system. All registrations are final. You are still welcome to pick up your shirt and race packet. Part of your registration fees are considered a donation and will help us Fight Hunger Statewide.
Do I need to register/pay for my child in a Stroller?
No. There is no charge for children in strollers or wagons, but only paid registrants will receive a race shirt.
Why do you need my email address?
Your email address is used to send you packet pick-up information, race day information, reminders, race updates and information about Utah Food Bank.
What shirt sizes are available?
One long sleeve (unisex) race shirt comes with every registration completed before online registration closes on November 23 at 12:00pm while supplies last. If we run out of shirts, a shirt from a previous year will be provided. Shirts are available in Youth Sizes S-L and Adult Sizes XS-3XL. Shirts are not guaranteed for registrations completed during Packet Pick-Up.
PACKET PICK-UP:
When:
Monday, November 14 - Friday, November 18
8:00am - 5:00pm
Monday, November 21 - Wednesday, November 23
8:00am - 6:00pm
Where:
Utah Food Bank - West Wing (directly south of our main building)
3160 S. 930 W.
Salt Lake City, UT 84119
We will offer last minute registration on November 23 at packet pick-up, but prices will be $35/person for either the 5K or 10K and shirts are not guaranteed.
THERE IS NO REGISTRATION OR PACKET PICK-UP ON RACE DAY!
Do I need my registration receipt to pick up my race materials?
Bringing your registration receipt to packet pick-up will greatly expedite the process, but it is not necessary
Can I pick up race materials for other people, or can others pick up for me?
Yes! Just be sure whoever is picking up has the first and last names of all participants they are picking up for, along with their address, and their team name (if applicable).
RACE DAY:
What if the weather gets bad?
The show will go on! Cold temperatures, snow, rain and wind will not be a reason to cancel the event.
Can I walk the 10K?
We strongly suggest that all walkers choose the 5K option. This will allow everyone to promptly complete their race and allow volunteers and staff to clean the area so they can celebrate the rest of their Thanksgiving Day.
Do I need to bring canned food to the race?
If you are able to, please remember to bring canned goods to donate to Utah Food Bank during packet pick-up or on race day. Donation barrels will be available at the information booth as well as a drop off at the Utah Food Bank truck.
Can I bring Pets/Dogs?
No. For your pet's safety and the safety of all event participants, dogs are prohibited. Dogs are also not permitted in the pre-and post-race areas. Thanks for your cooperation and understanding.
Can I participate on roller blades/scooter/bike/skateboard? Stroller?
Strollers are permitted to use during the race. Our event insurance policy specifically prohibits the use of roller blades, scooters, bicycles, and skateboards, so please leave them at home. Please don't jeopardize the future of the event.
Where are lost and found items kept?
If there are items not recovered at the event, please contact Sara at sarap@utahfoodbank.org. Any items not claimed within a week will be donated to Deseret Industries.
Will there be bathrooms available?
We will have port-a-potties available.
Will there be refreshments available?
Water and light snacks will be available at the finish line for race participants. We will also have a water station located at approximately mile 2.
Are costumes required?
No. Costumes are encouraged, and they are a lot of fun, but they are not required!
TIMING & AWARDS:
Are timing chips available?
We will no longer be offering timing chips for the race. If you wish to time yourself, we recommend using your personal fitness tracker, or a service such as Strava or MapMyRun.
Will awards be given?
No. That way, more of your registration fee can be used to feed hungry Utahns and support our mission of Fighting Hunger Statewide! We thank you for your support!
OTHER:
Where do my donations go?
Your online donations are processed by Utah Food Bank on our secure website. Proceeds will directly benefit Utah Food Bank's work of Fighting Hunger Statewide. For more information, please visit http://www.utahfoodbank.org.
How can I volunteer?
If you are interested in volunteering at the event, please email andream@utahfoodbank.org with "Volunteer Request - Utah Human Race" in the subject line.
Still need help?
Please contact Heidi at heidic@utahfoodbank.org or 801-887-1278.